While we encourage our boys to pursue their passions and find their purpose across multiple avenues and areas, academics remains at the core of education at Westville Boys' High School. We emphasise the nurturing of excellence and teaching and learning, giving our boys the best possible access to further study or professional development, either locally or abroad.
We are always maintaining and developing our academic environment, both cognitively and physically. We expect our boys and teachers to be collaborative and accountable, and to embody the concept of lifelong learning which is so essential in the context of rapid global change.
Whether your child is an academic star or someone who needs support and attention to get where they need to be, WBHS will stop at nothing to help your child fulfil their academic potential.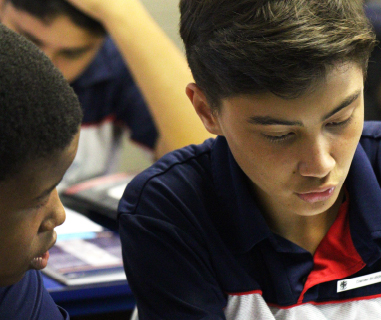 Westville Boys' High School has a proud record of academic achievement. Its reputation as a top school was built around academics during the first years of its existence. This reputation has now been enhanced by a high degree of success in sport, culture, service and leadership, ensuring that our students are able to find their purpose and reach their full potential, whatever that may look like.
At WBHS, teaching methodology in each subject is generally based on a questioning and interactive approach. The school also promotes the concept of collaborative learning as a skill that benefits all pupils. This is evidenced through classroom activities and the academic extension and academic support programmes offered outside of the timetable.
We place a strong emphasis on Mathematics and Science, rather than channelling pupils into subjects that may be regarded as softer options. Our emphasis on obtaining the highest possible number of pupils taking Maths and Science for matric allows pupils to extend themselves to their full academic potential and to
maximise their opportunities in their chosen careers.
Westville pupils are regularly among the top performers in the annual National Senior Certificate examinations, both provincially and nationally. Two pupils have attained the distinction of being the top matriculant in South Africa in recent years, and on eight occasions since the first matriculating class at the school in 1959, a
Westville pupil has been the top placed Matriculant in the province.
WBHS is a member of the Allan Gray "Circle of Excellence". This network recognises a maximum of 100 schools in South Africa each year, both public and private, that are, among other things, committed to genuinely transforming South African society and who produce young graduates who have a hopeful and optimistic
view of themselves, their country, their continent and the world. WBHS has been a member since 2008, the founding year of this