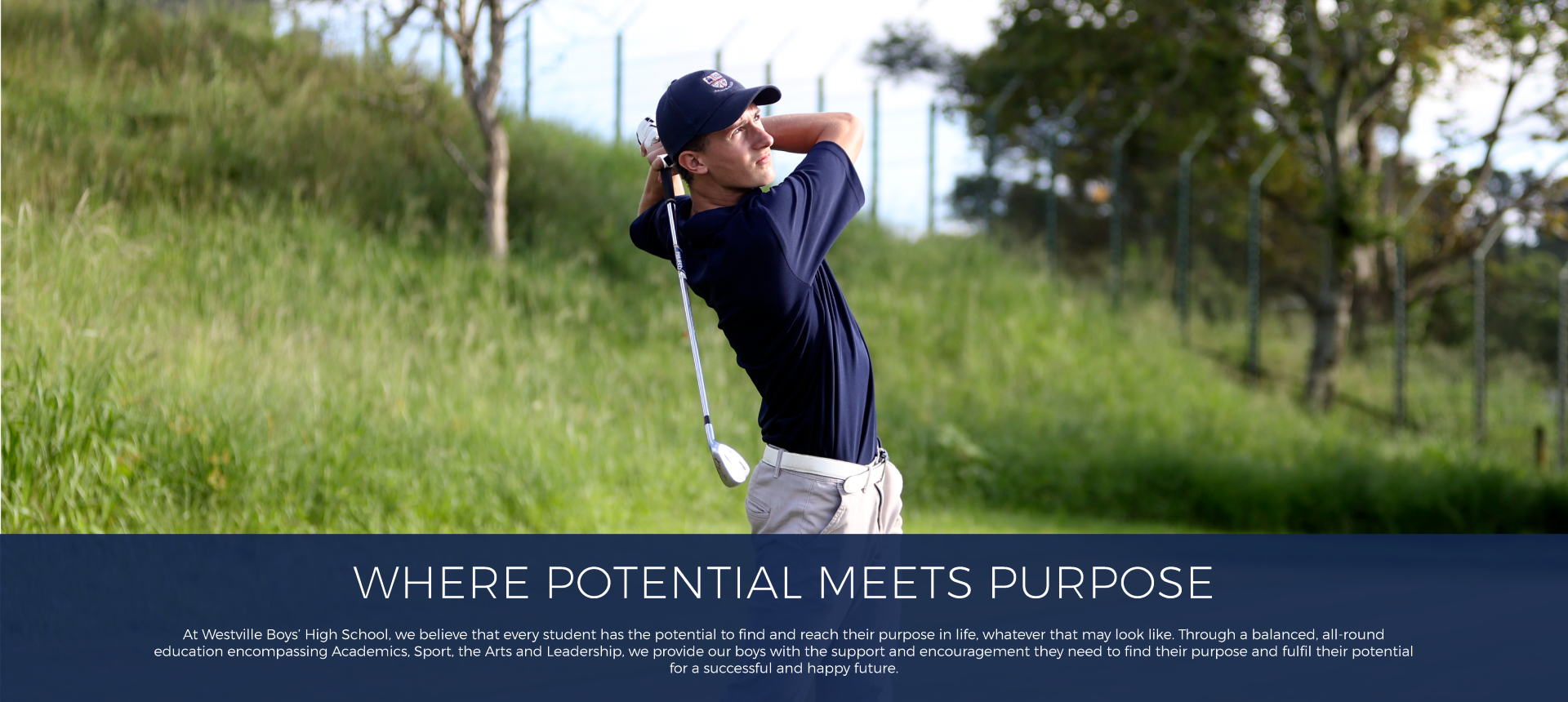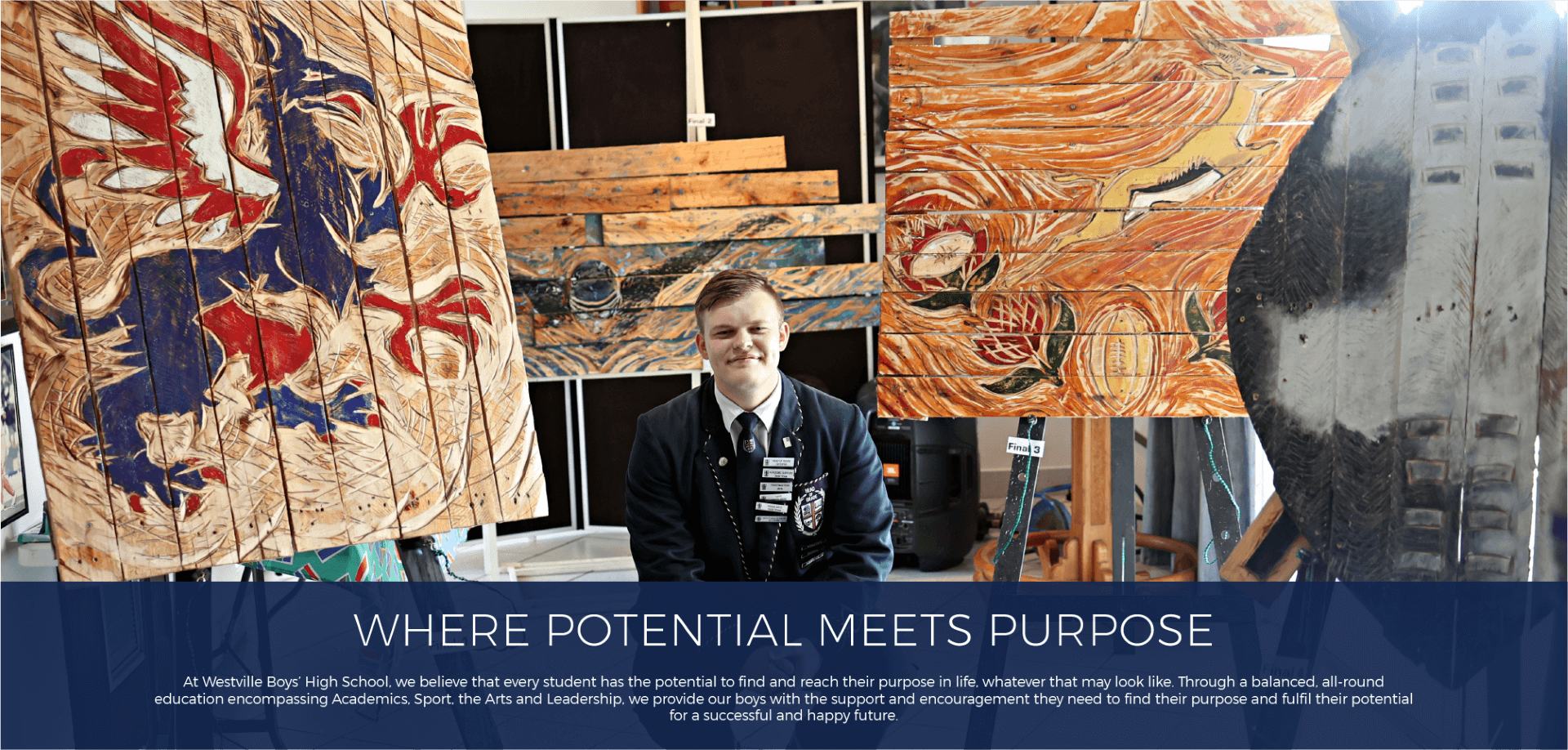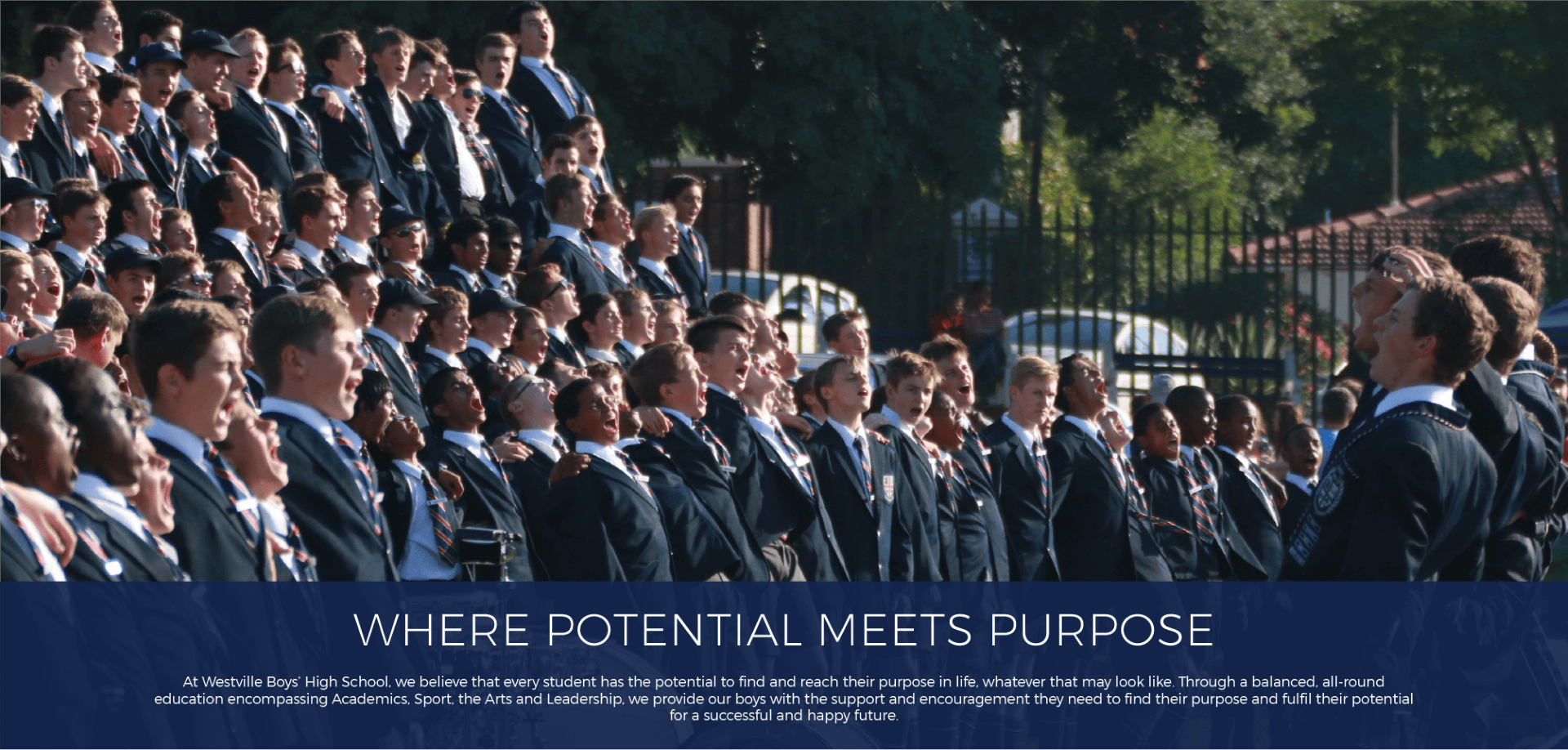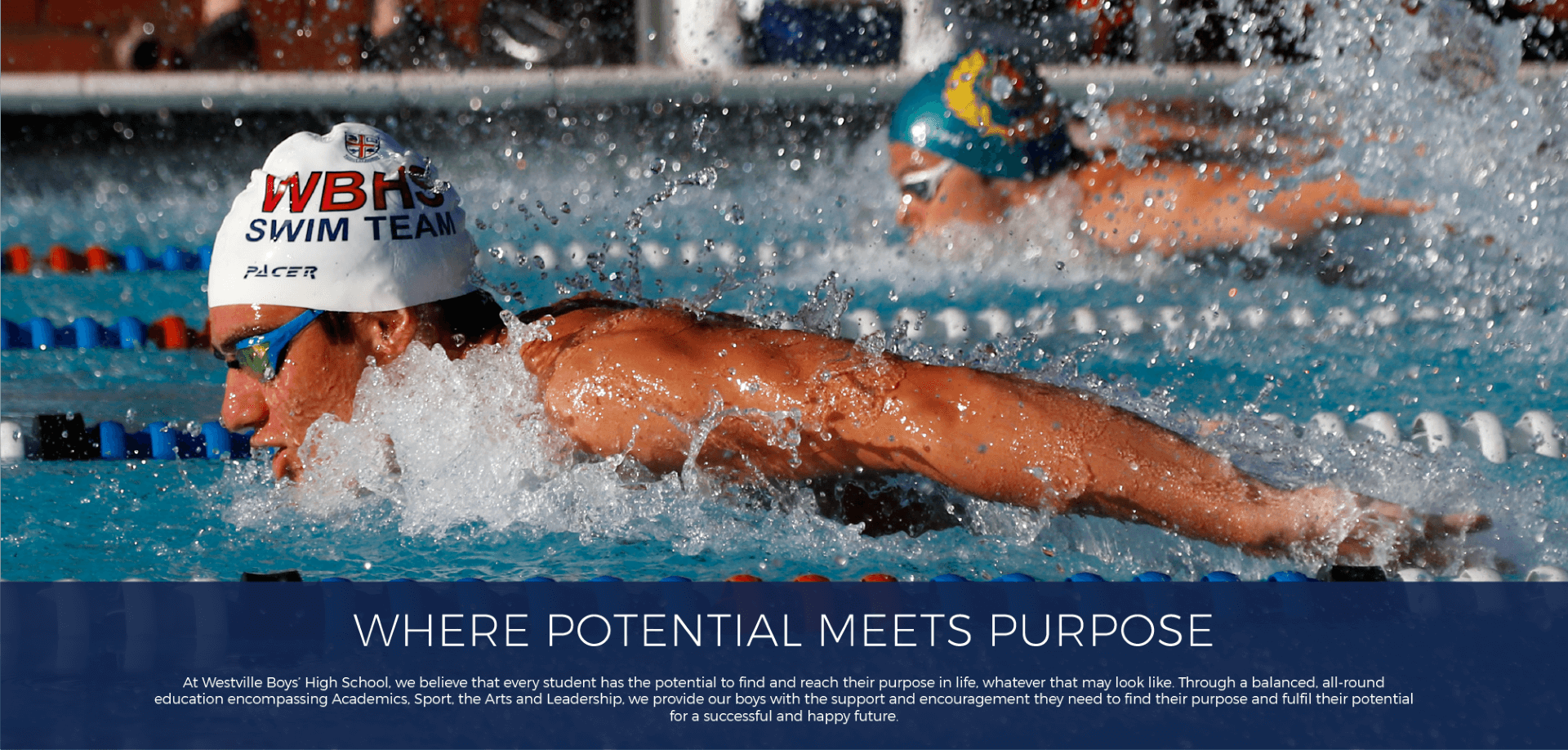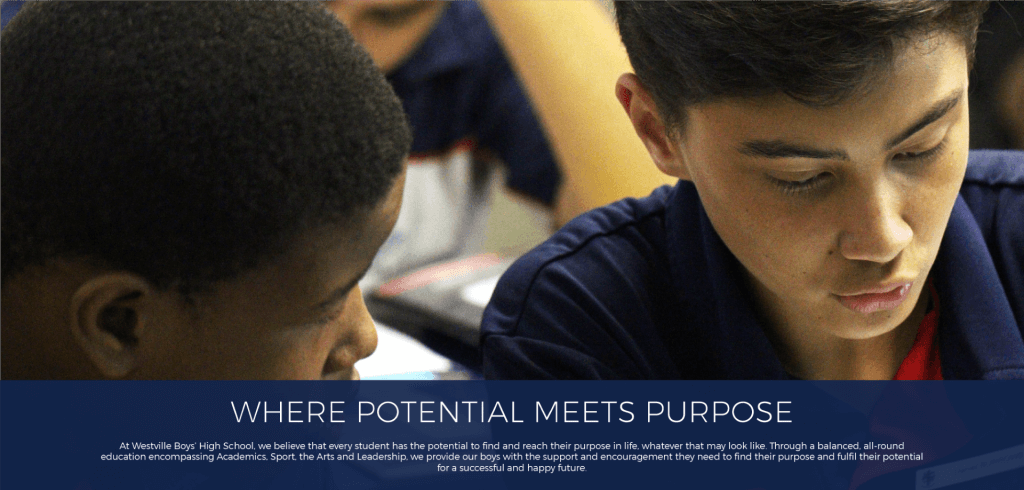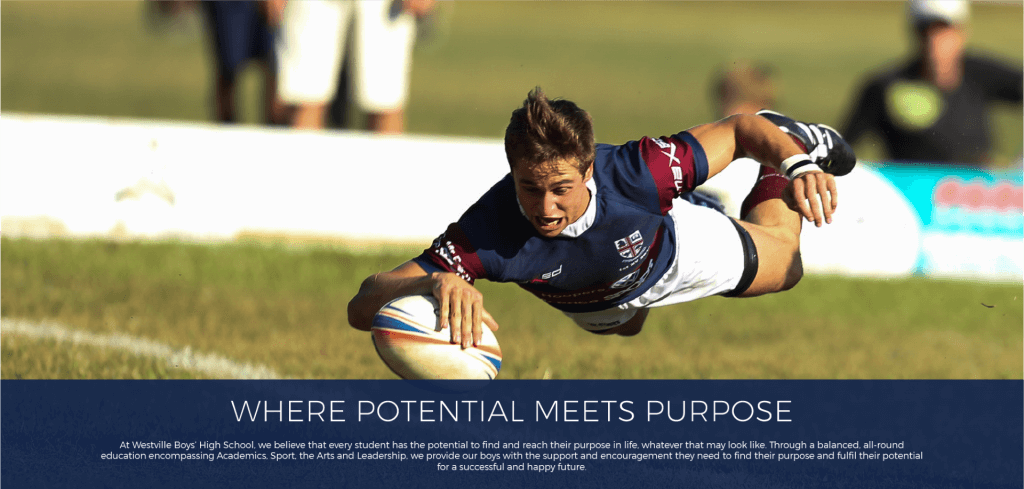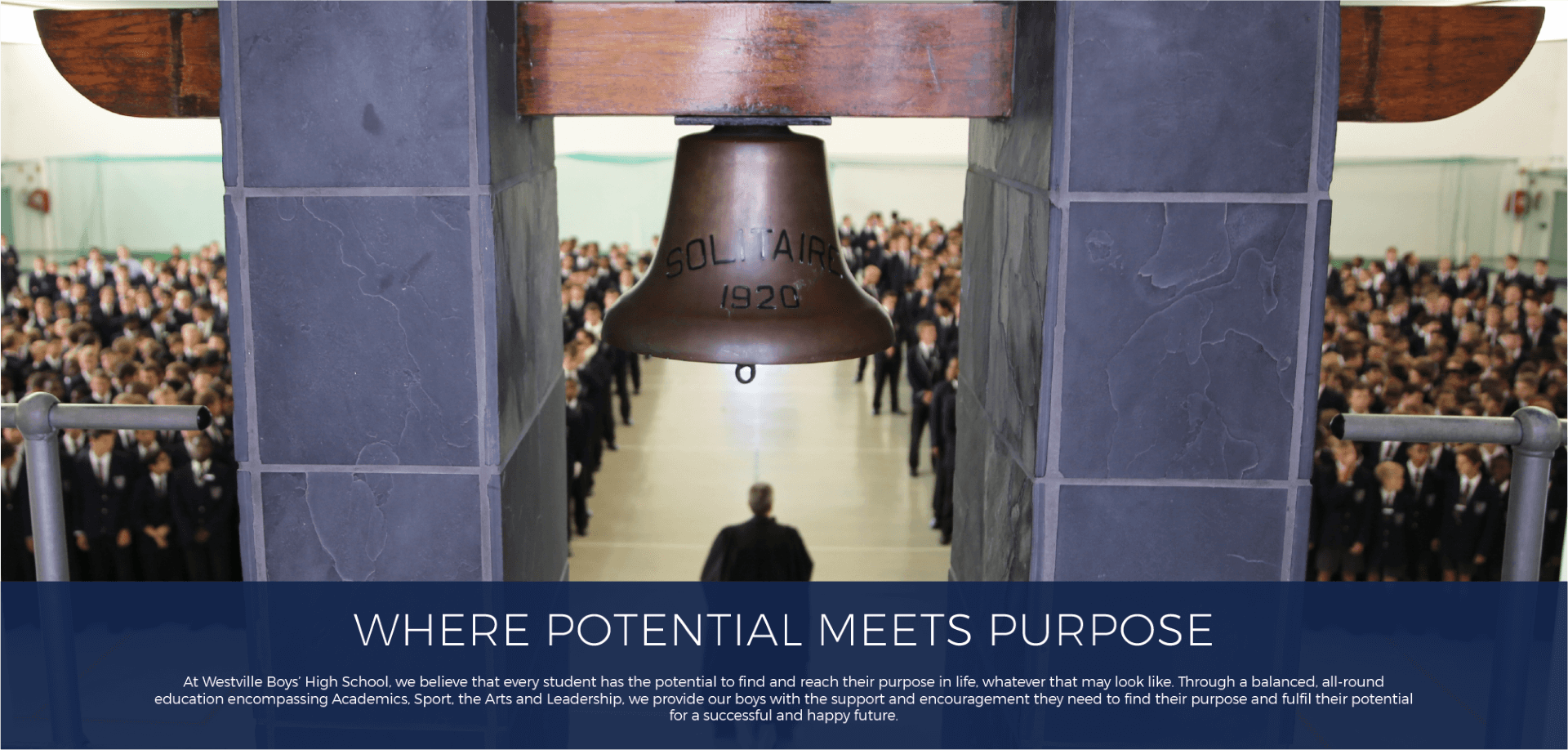 WBHS Banner Image 9 (Large)
Basketball Vs Northwood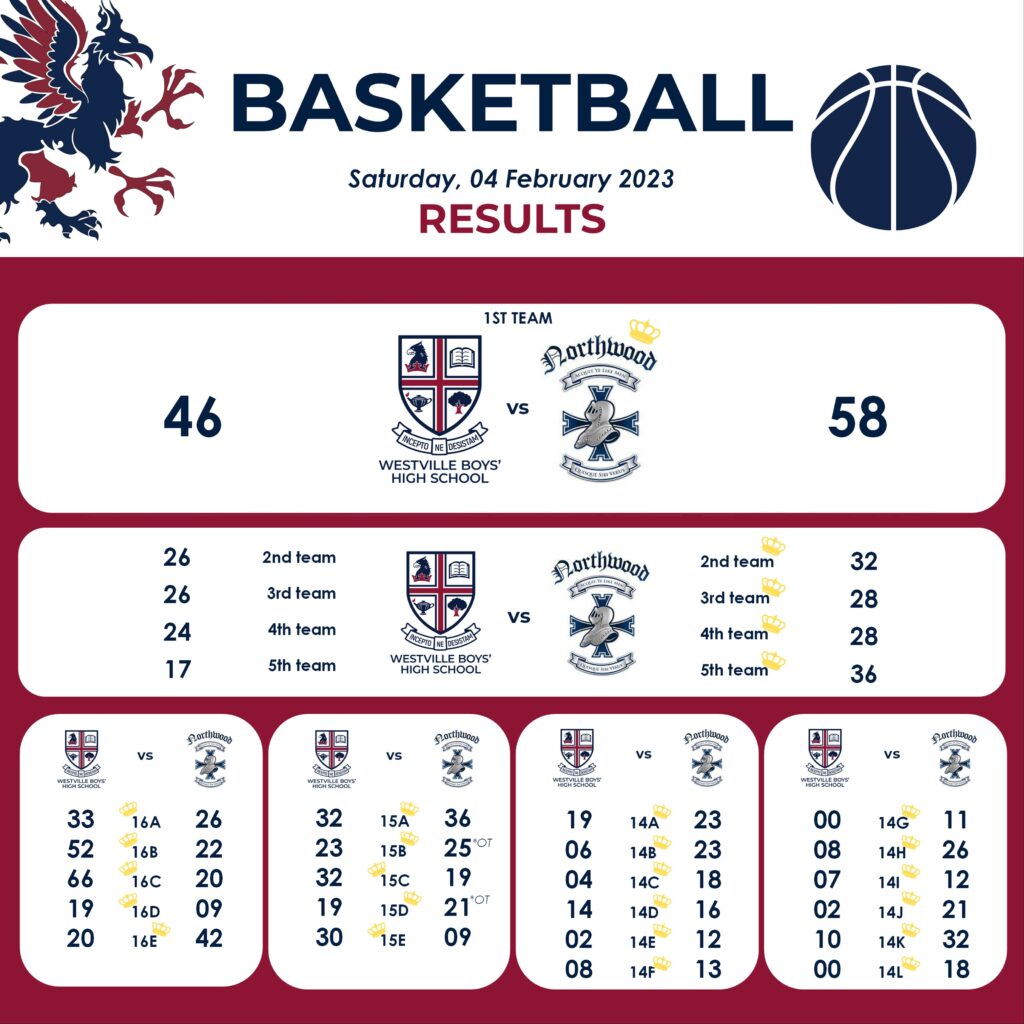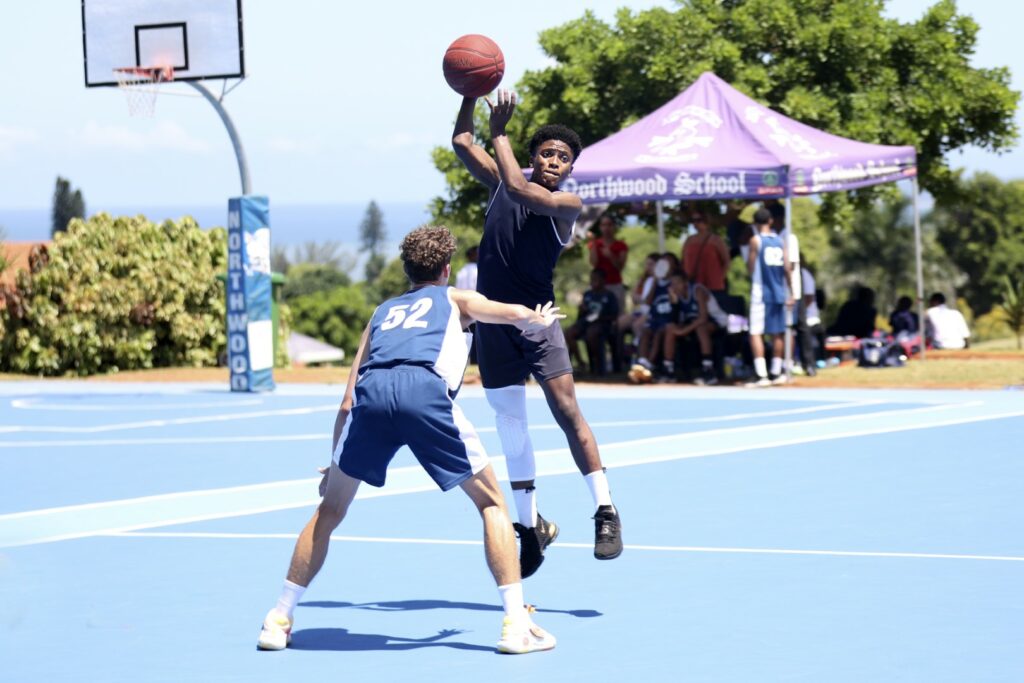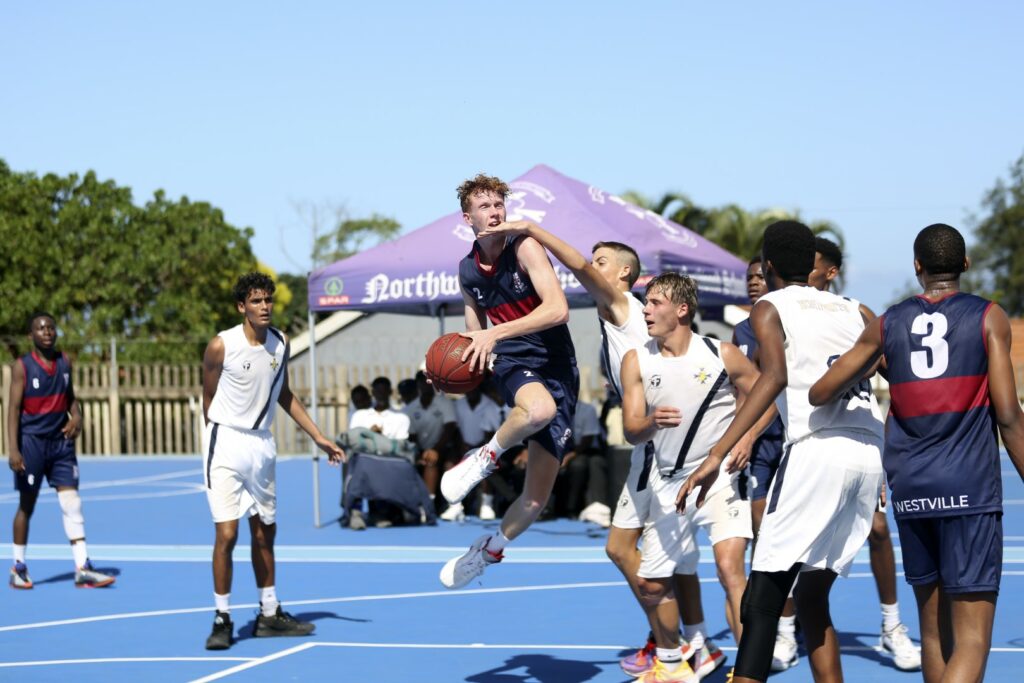 Cricket Vs Northwood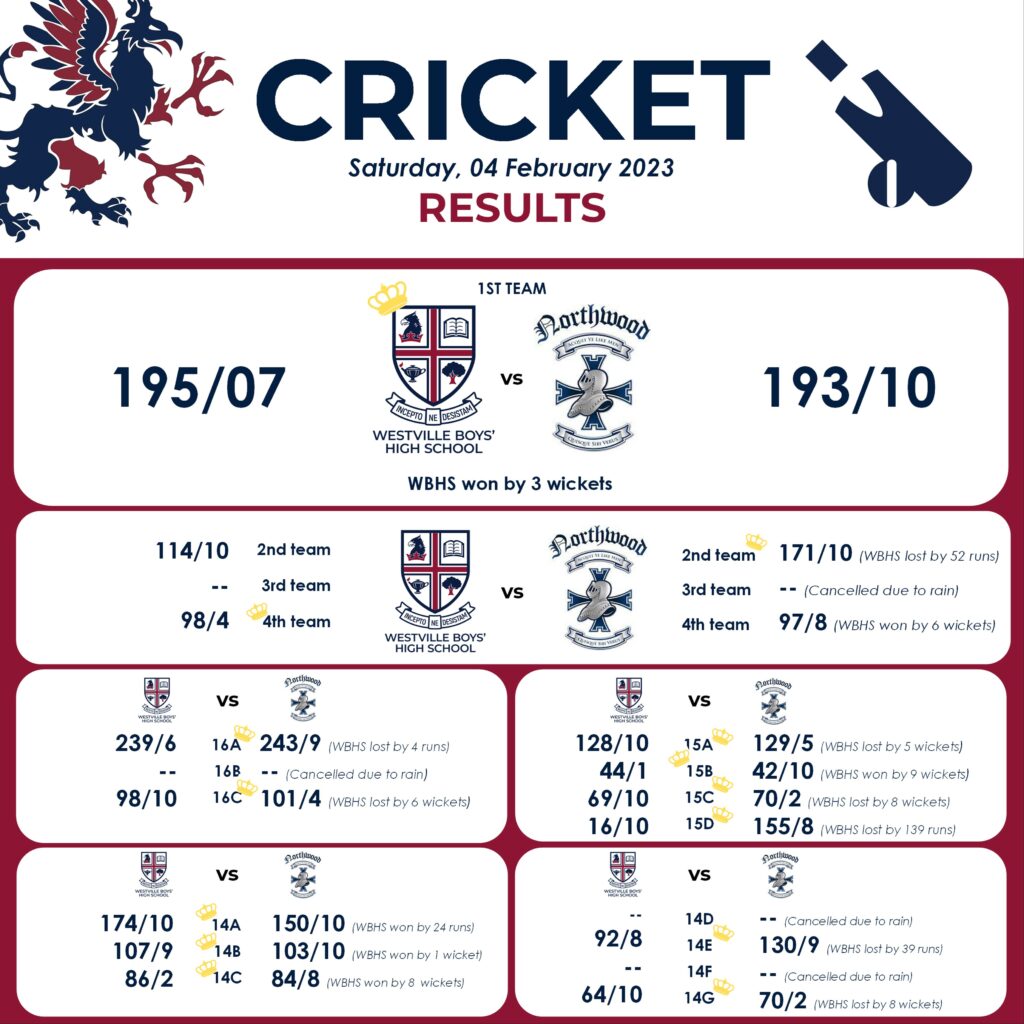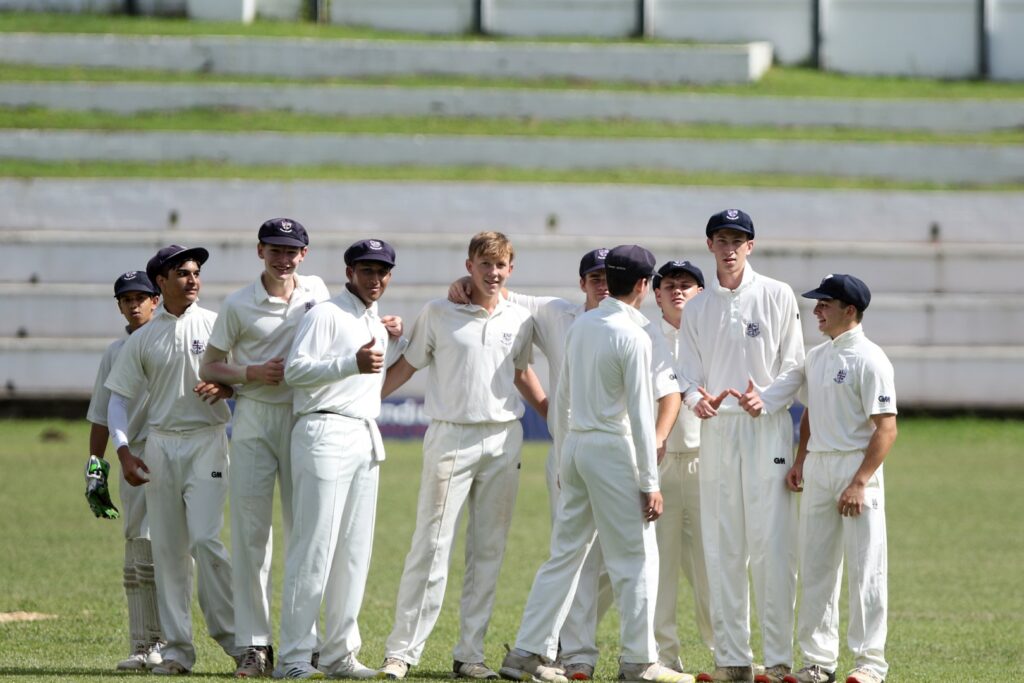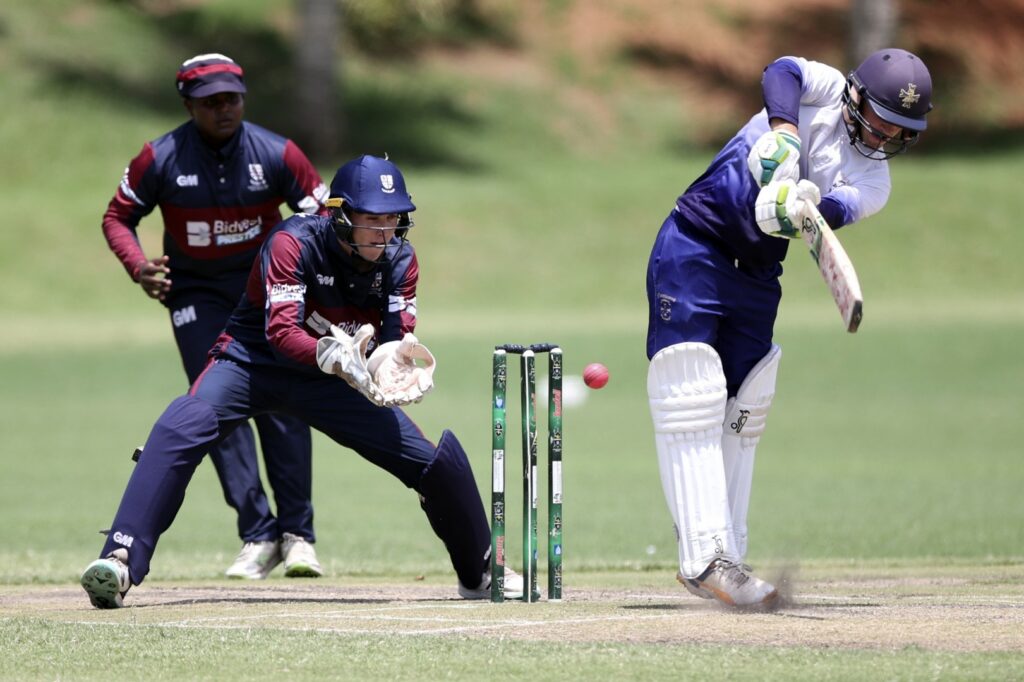 WBHS 1st vs Northwood 1st
NWD 193/10, Khan 5/32, Fouche 68, Kuppan 54 WB 195/7, McAllister 92*, McGough 30, Nielson 3/41 WB won by 3 wickets
WBHS 2nd vs NWD 2nd
Northwood 171/10, Botha 3/21, Wild 3/21, Beck 3/40 WBHS 114/10, Mason 4/8 WB lost by 52 runs
WB 3rds vs NWD 3rds
Cancelled due to rain
WBHS 4ths vs NW 4ths
NW 97/8, Van Deventer 3/5
WB 98/4
WB won by 6 wickets
WBHS U16A vs Northwood U16A
NW 243/9, White 79, Mungavin 50
WBHS 239/6, Simpson 81, Payne 51, Holman 35 WBHS lost by 4 runs
WB 16B vs NWD 16B
Cancelled due to rain
WBHS U16C vs NW U16C
WBHS 98/10, Khuzawyo 32, Stuige 5/12
NW 101/4, Little 32, Grobbler 40*, Potgieter 3/12 WBHS Loss by 6 wickets
WB 15A vs NWD 15A
WB 128/10. Nair 33, Wimble 5/30
NWD 129/5. Schilz 32, Wimble 30*. Delvin 3/25 WB lost by 5 wickets
WBHS 15B vs NW 15B
NW 42/10. Brooker 4/21
WBHS 44/1 , Ramdevu 29*
WB won by 9 wickets
WB 15C vs NWD 15C
WB 69/10
NWD 70/2
WB lost by 8 wickets.
WBHS U15D vs NW U15D
NW 155/8, McCarthy 53*, Niadoo 4/10
WBHS 16/10, Hemraj 6/5
WBHS loss by 139 runs.
WB 14A vs NWD 14A
WB u14A 174/10
NW u14A 150/10. Stoop 3/19
WB won by 24 runs
WBHS U/14B v NWD U/14B
NWD 103/10
WB 107/9, Teeling 27, Cone 5/40
WB won by 1 wicket
WBHS u14C vs NWD u14C
NW 84/8, Stainbank 3/12
WBHS 86/2 , Usswald 46*
WBHS won by 8 wickets.
WB 14D vs NWD 14D
Cancelled due to rain
WBHS 14E vs NWD 14E
NWD 130/9, Palavar 31
WB 92/8, Amet 6/3
NWD won by 39 runs
WB 14F vs NWD 14F
Cancelled due to rain
WBHS u14G vs NW U14G
WBHS 64/10
NW 70/2, mihir 34*
WBHS lost by 8 wickets.
Played: 18
Won: 6
Lost: 8
No result (weather): 4
W100 ball competition 
WBHS 1st vs Kearsney 1st
WB 119/4, Roberson 31, Pillay 37
KC 120/2, Bishop 38, De Beer 31
KC won by 8 wickets
WBHS 2nds vs Kearsney 2nds
WB 118-4 Van Breda 51
KC 107-6 Wild 3/16 Botha 2/18
WB won by 11 runs
WBHS 15A vs Kearsney 15A
WB 177/4. McGough 82, Rasmussen 45
KC 123/9. De Villiers 38
WB won by 54 runs
WBHS 14A vs Kearsney 14A
KC U14A 90/6
WBHS U14A 93/9
WB won by 1 wicket.
Played: 4
Won: 4
Lost: 0
Waterpolo Vs Northwood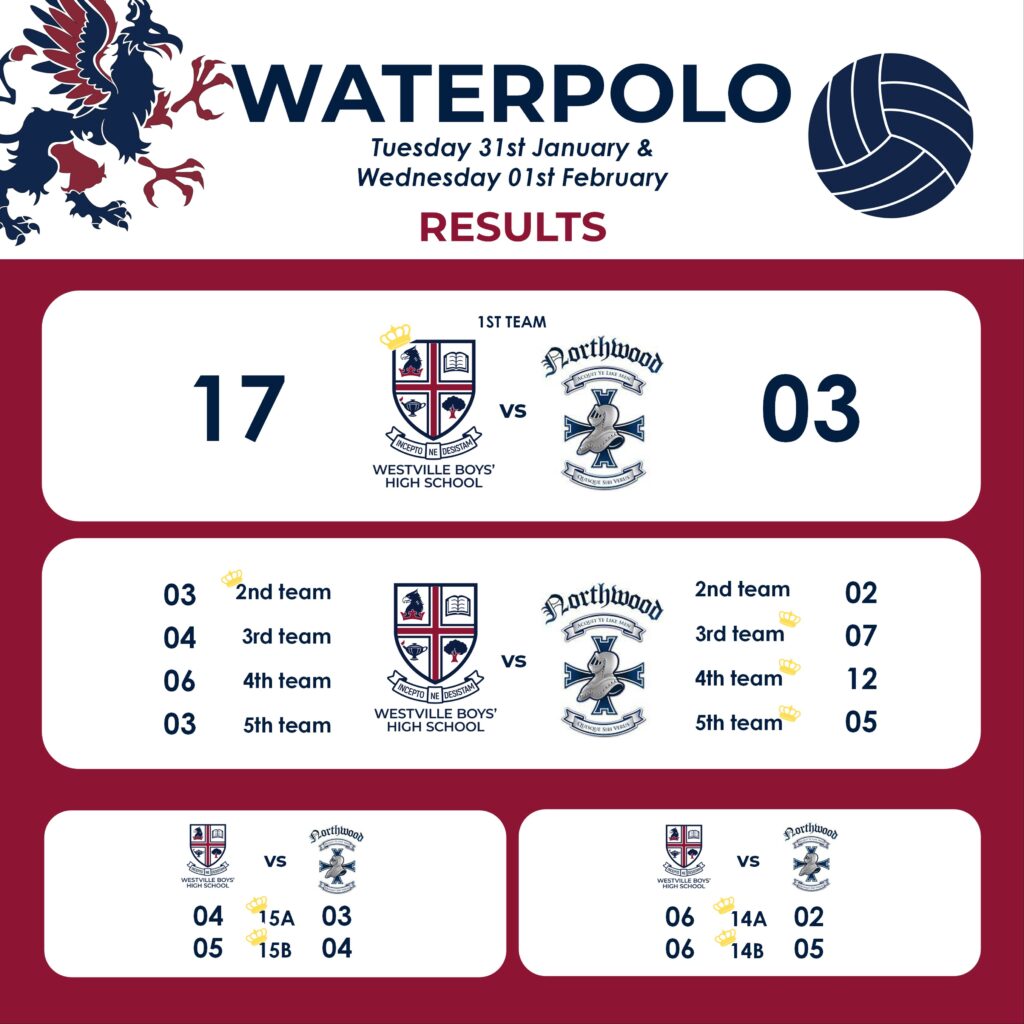 Affies Gala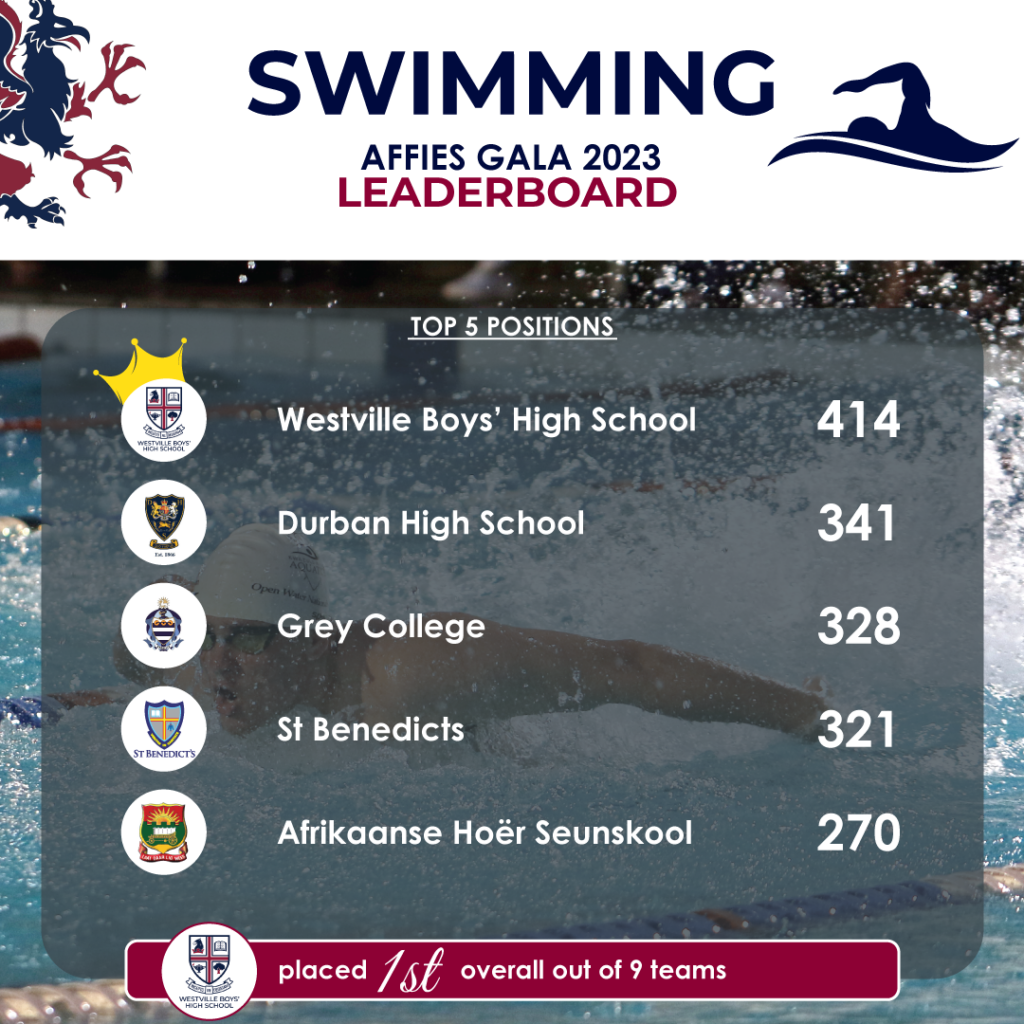 Alan Burt Gala 2023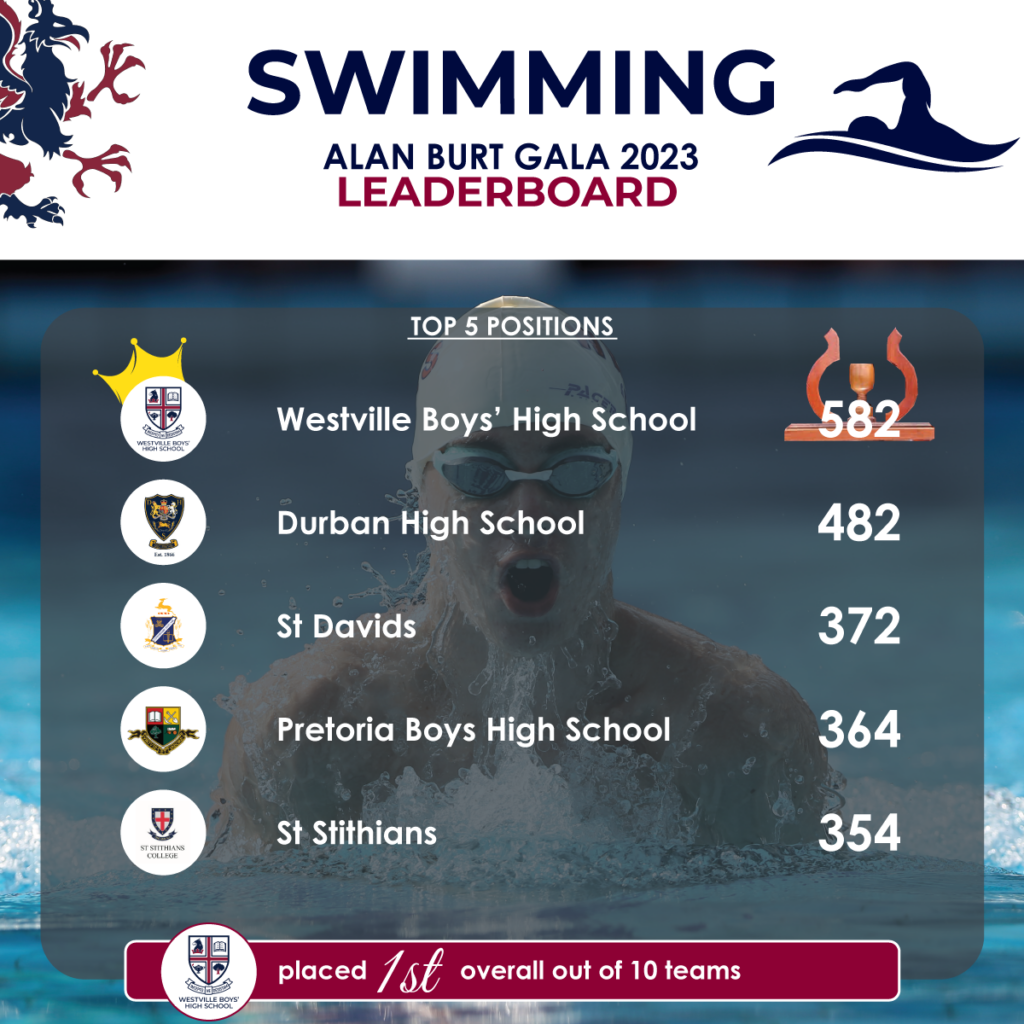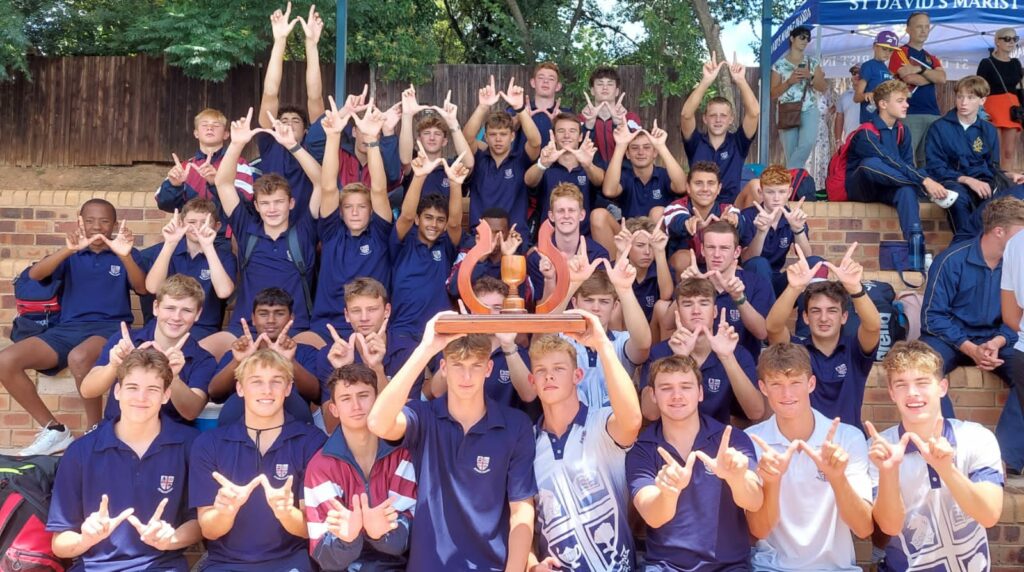 Swimming Report
The Westville Swimming team returned to Durban victorious after competing in two galas in Gauteng this past weekend.
The first of the galas took place at Affies Hoër Seunskool on Friday evening. Westville amassed a total of 414 on the day. 2nd was DHS with 341 and 3rd was Grey College with 328. After such a great start the focus shifted to the Alan Burt Gala. The gala took place at St Stithians College and was hosted by St David's Marist Inanda. Westville put in another great performance. This time they won by an emphatic 100 points. The team reached a points total of 582. 2nd was DHS with 482 and 3rd was the hosts St David's with 372 points.
We are proud of the boys and staff for a wonderful set of tour results. Sport doesn't allow one to bask in victory or success for too long. Rightly so, as this coming weekend a big challenge awaits at the Nestor Pierides Invitational Gala. The gala is always fiercely contested and will be a spectacle of top swimming talent.  
Cricket Report
Westville Boys High School were hosted by Northwood this weekend in the next round of summer fixtures. As always, there were some tough lessons learnt against our Durban North neighbours. 4 fixtures were unfortunately washed out because of rain on Friday, however 14 games were able to continue. Westville won 6 of the with Northwood winning 8. Notable wins came from the U14A team and the First XI. The U16A team fell just short of a cracking chase at Crusaders Sports Club in their attempt to get the 244 needed for victory.
The First team lost the toss on Smith Oval and Northwood had no hesitation in batting first on what looked a like a two paced pitch. The decision to play an extra spinner in the team paid off, as an excellent spell of bowling by Yaseen Khan produced the team's best figures in the innings of 5/32. This incredible spell played a pivotal role in restricting Northwood to 193 all out. Westville's chase didn't start off very well as a constant flow of wickets early on meant that at 77/5, a partnership of substance was needed. Fortunately the boys answered Westville's call with an 80 run partnership. The two batsmen were the in-form Kaeden McAllister (92* off 97) and Sean Mcgough (30 off 69). Their incredible partnership enabled Westville to break the back of the chase and allowed Westville Boys First XI to get home with 7 wickets down and 4 overs to spare.
In the U14A win, it was good to see the boys fight hard against a very good Northwood team. Having to defend 174, a stong bowling and fielding performance would be required to get the boys home. Enter Elijah Stoop, the best bowler on show with 3/19 off 10. In addition, good wins by U14B/C, U15B and the 4th team allowed for more celebrations in the cricket space. The match of the day was definitely the U16A game. Unfortunately, the boys fell just 4 runs short of the 244 required for victory with Seth Simpson 81 and Roxton Payne 51 amongst the runs in an epic chase.
On Wednesday (U14A & U16A) and Thursday (U15A & First XI) we go again against Northwood as we host them in the KZN Coastal W100 ball games. We expect another tight contest across all age groups and are confident the boys will put in some good performances.
Waterpolo Report
Westville boys played Northwood mid-week due to swimming galas in Johannesburg over the weekend.
The seniors kicked off on Tuesday afternoon with Northwood beating Westville in the 1st 3 games. The 2nd team game was a nail biter with 2nd team goal keeper Travis Holden keeping his team in the game, making some great saves in the dying seconds for the Westville boys to hang onto a narrow 3-2 win. The 1st team game was great for the Westville supporters. The 1st team boys played some wonderful polo from start to finish. Westville were way too strong for their opponents and ran away with the game 17-3.
The junior games on the Wednesday were very well contested with the U14B and U15B teams winning by a goal each. The Westville U14A boys look very promising again beating a strong Northwood team 6-2. The highlight of the 2 days of fixtures was the U15A last second win. Goal keeper Warren Murray scored
A dramatic winner on the buzzer for Westville to sneak home 4-3. Well done to all the water polo boys.
A big week awaits with fixtures on Thursday against St Benedicts, and games against the very challenging Clifton College on Saturday.
Results against Northwood
1st 17-3
2nd 3-2
3rd 4-7
4th 6-12
5th 3-5
15A 4-3
15B 5-4
14A 6-2
14B 6-5