The 2019 Matric Speech Night and Bell Ringing Ceremony took place on Tuesday 8 October.  WBHS was extremely proud to welcome back recently retired Headmaster, Mr Trevor Hall, as the Guest of Honour.  It was also an fitting opportunity for Mr Graham Steele, the new Headmaster to present Mr Hall with his Pro Meritis Blazer and award.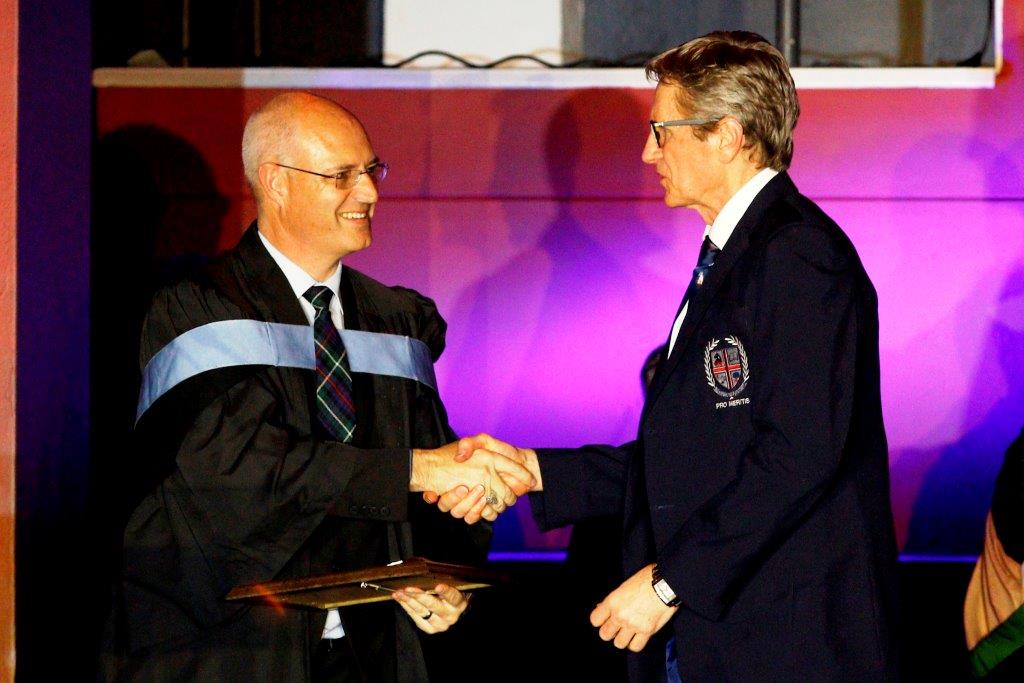 The Old Boys' Pro Meritis Award can best be defined as an award to a graduate of Westville Boys' High School who has achieved a "degree of Excellence" in his subsequent life.
Not necessarily in any one skill or because he has been blessed with particular talent, rather it is an award to a person who has made a significant contribution to the national or global community and has achieved the highest degree of excellence to which we aspire in the School and who has by example of character, attitude, service, involvement, application, unselfishness, modesty and dedication over a period of time, reflected the  personal attributes which we value in our School.
It is an award which, in its entirety, is the highest honour that the School can bestow on an Old Boy.  It is an award which is not bestowed very often and the ultimate decision will rest with the Headmaster.
Mr Hall was congratulated and thanked for his incredible contribution to education, both nationally and internationally.  He is a true icon.
Congratulations to the following award winners:
SERVICE AWARDS
WALTON CUP Service to the School Award -Cameron Moodie
OLD BOYS' OF 1979 Service Award -Richard Baah
SERVICE TO THE COMMUNITY Award -Garreth Hayward
THE WESTVILLE LIONS CLUB DENIS HAMILTON Service Award -Michael Bromfield
THE GERALD SWEIDAN Award -Andrew Burgess
GARETH MORGAN LEADERSHIP THROUGH SERVICE Award -Jordan Shepard
THE WESTVILLE PROTECTION SERVICES First Aid Award -Jarryd du Toit
SPORTS AWARDS
SILVER JUBILEE SHIELD The Errol Stewart Award for Sportsman of the year -shared by Gareth Beavan and Joshua Davies
MICKEY ARTHUR TROPHY for Sporting Excellence – David MacDonald
CULTURAL AWARDS
WALTON SCROLL for Dramatics -Cameron Moodie
MCLEAN SCROLL for Debating -Reggie Davidson
ACADEMIC AWARDS
SUBJECT PRIZES:
Accounting -Adam Blewett
Dramatic Arts -Cameron Moodie
Engineering Graphics and Design -Gareth Beavan
Geography -Gareth Beavan
IsiZulu 1st Additional Language -Nthuthuko Ndlovu
Life Sciences -Reggie Davidson
Maths Literacy -Jed Hayman
Physical Science -Aidan van Rooyen
AP Maths Prize -Aidan van Rooyen
Visual Arts -Michael Bromfield
Afrikaans 1st Additional Language -Michael Archibald
Life Orientation -Michael Archibald
English Home Language -James Haw
History -James Haw
Mathematics -Shaahid Ghoor
English and Mathematics -Gideon Chetty
Tom Stokes Creative Spirit Award -Matthew Degger
LEADERSHIP AWARDS
Governing Body Chairperson's Award -Mikael Daniel
The Headmaster's Award for Head of School -Daniel Trevethan
The Lester-Hall Cup for Good Fellowship -James Britz