NEWS FROM THE ARCHIVES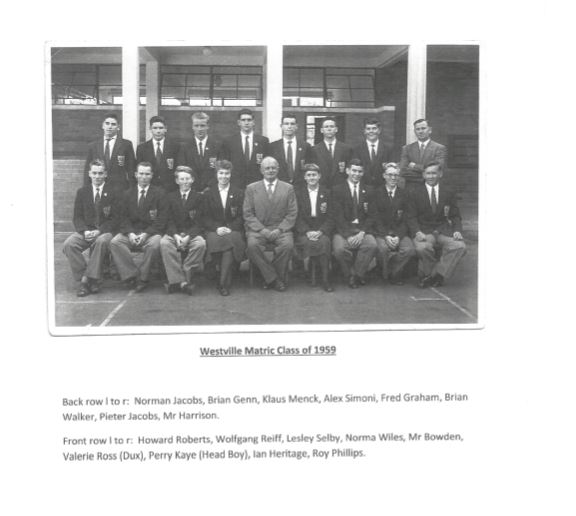 With the trials exams behind them, the Matric class of 2019 only have a matter of weeks left before they start writing their final exams. By this stage, they will hopefully be ready and  well-prepared for the exams .  We wish them clear minds and results that will reflect the effort they have made during the years.
Sixty years ago, an intrepid and nervous class of fifteen Westville High School pupils started their matric exams. The class included two girls, Norma Wiles and Valerie Ross. The school was still co-ed and had only achieved High School status in 1955 when the Standard VI (Grade 8) year was added.  The 1959 Matrics were genuine pioneers. The school had no experience of accommodating such an exam. Teachers and subject departments would have lacked records and copies of previous papers. They were at a great disadvantage!
However, all fifteen candidates passed, with eight pupils gaining merit passes.
In 1959, despite the lack of numbers in Matric, the High School had started to function and flourish. Westville High School headed the Senior Co-ed (Boys and Girls) schools for Swimming. The first ever inter-house Athletics meeting took place on the main sports field (later to be Bowdens field).  The schools 1st  XI Cricket took to the field. The school's first drama presentation was staged in the Sherwood Hall and this was soon followed by a pantomime produced in the new Pinetown Civic Hall.  Obviously the school did not have a hall of its own yet!
That year the Prize Giving ceremony took place in the M.O.T.H. Hall. Finally, an elegant farewell dance was held in the Westville Town Hall to honour the school's first Matric class of the high school era.  We salute the first Matric class.  They have set high standards and an example for our proud and vibrant school.