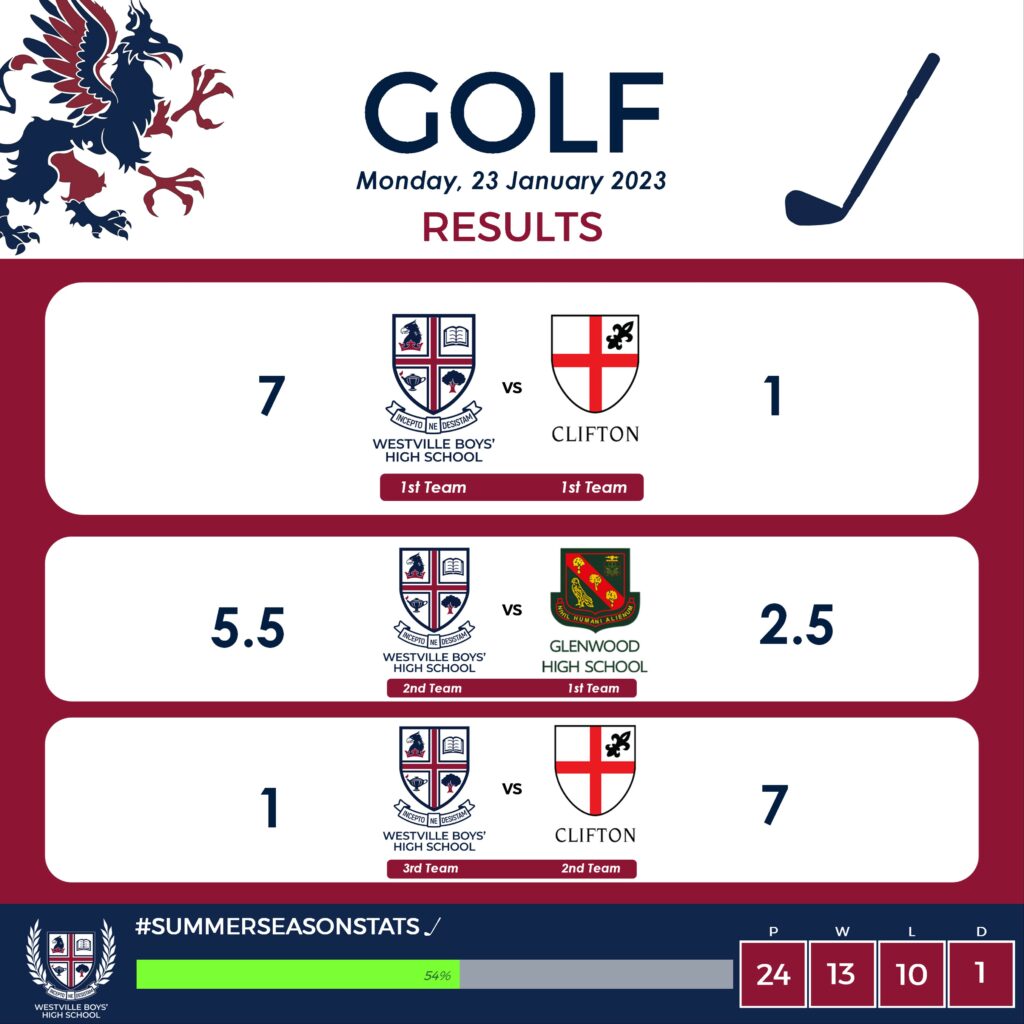 Basketball Vs Hilton
1st – *BYE
2nd – (W) 22-14
3rd – (L) 14-20
4th – (L) 21-24
5th – (W) 34-11
16A – (W) 27-13
16B – (W) 23-17
16C – (W) 17-15
16D – (W) 26-11
16E – (W) 34-6
15A – (W) 57-17
15B – (W) 21-10
15C – (W) 17-16
15D – (W) 53-13
15E – (W) 31-9
14A – (L) 10-43
14B – (L) 4-31
14C – (W) 12-6
14D – (W) 27-0
14E – (W) 36-0
P – 19
W – 15
L – 4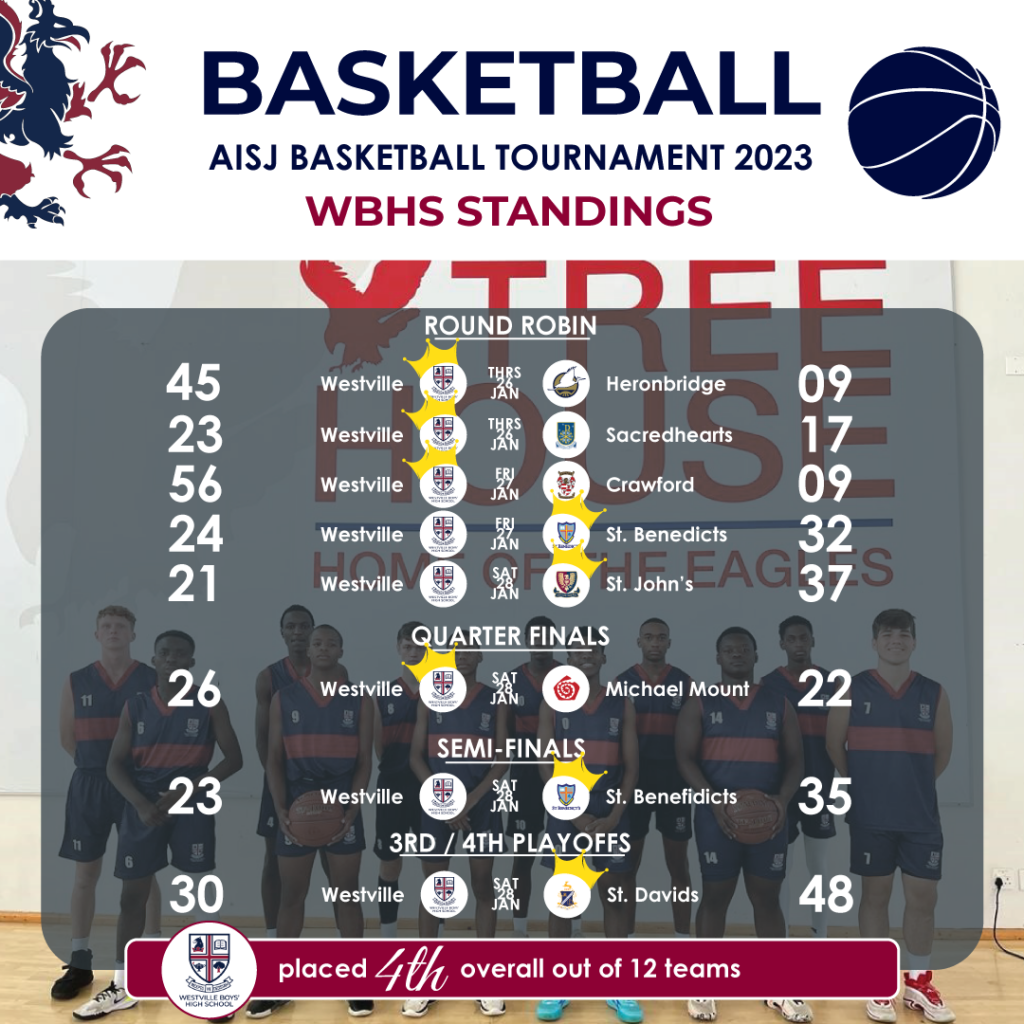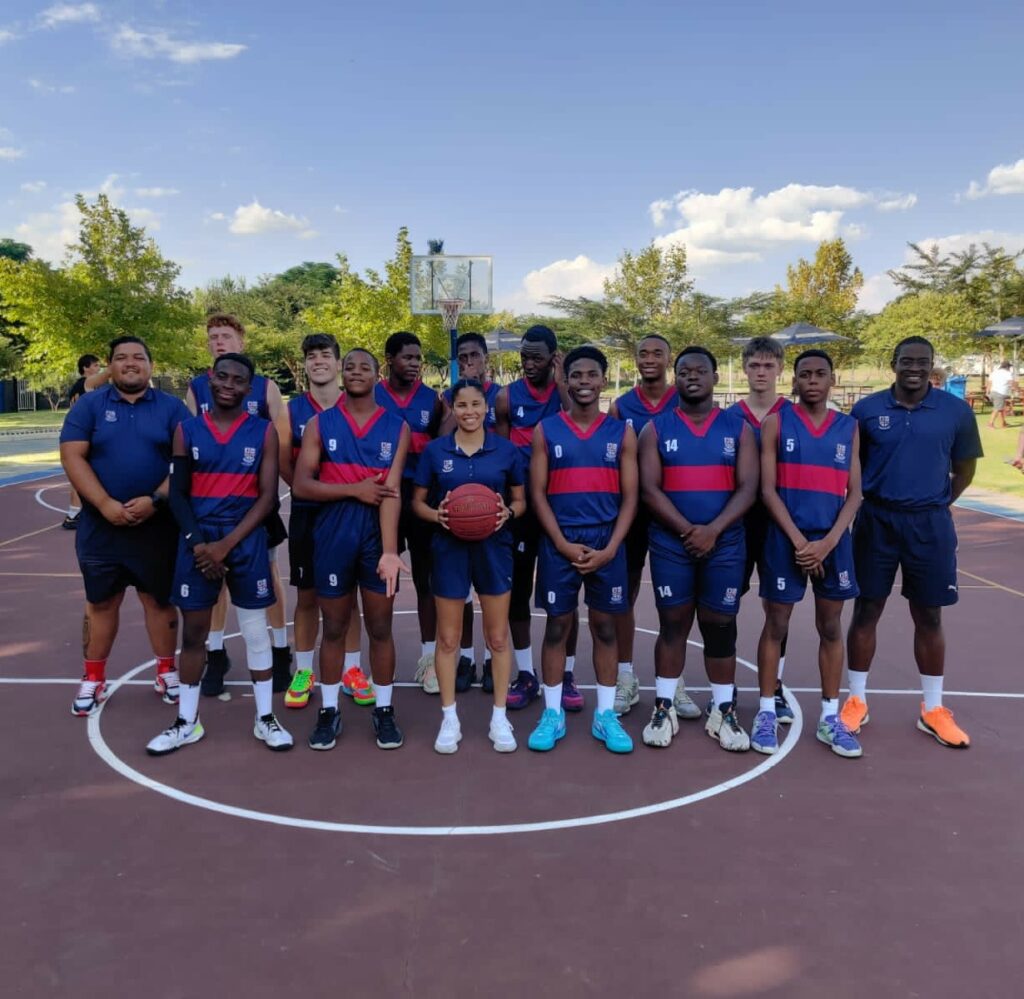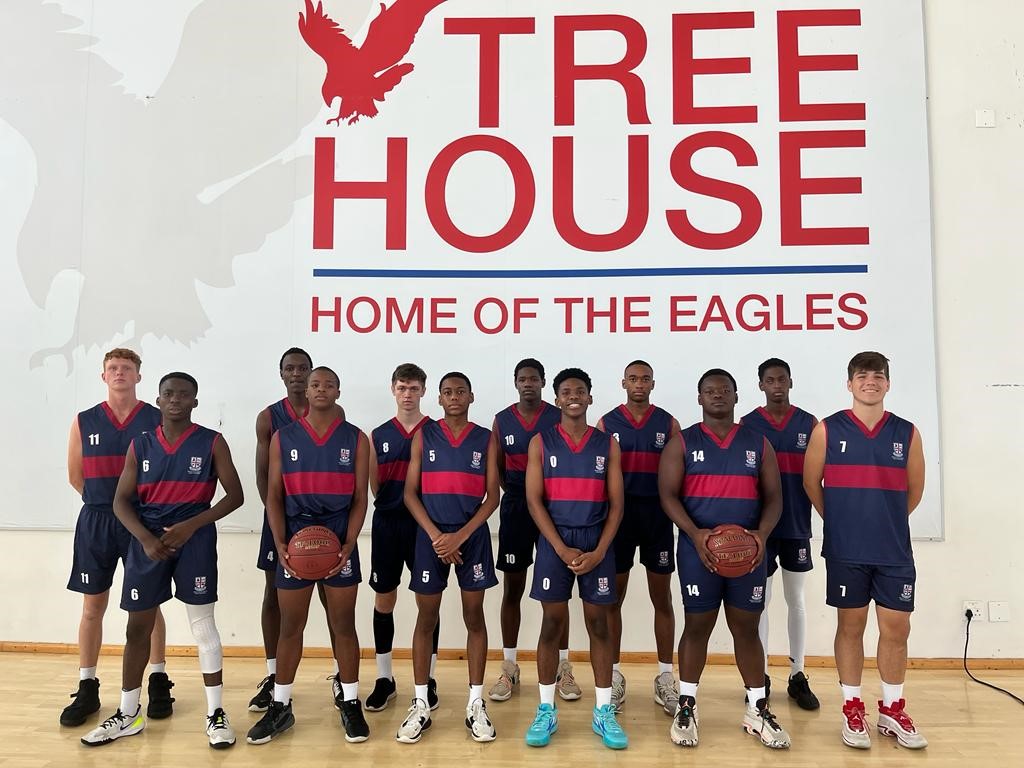 Cricket Vs Hilton
WBHS 1st vs Hilton 1st
HC 263/7, Lockem 40, Boast 65, Strydom 30, Chantler 31 WB 223/10, Gopalan 37, Pillay 41, Simpson 66 HC won by 40 runs
WB 2nds vs HC 2nds
WB 201-8. Van Breda 63* Ramsuran 38, Maxwell 33 HC 202-5 Lotter 81, Khan 2/39 WB lost by 5 wickets
WBHS 3rds vs HC 3rds
WB 170/9, Karodia 33, Kade Burns 37, Humphreys 31 HC 174/6, Baker 66 WB lost by 4 wickets
WB 4ths vs HC 4ths
WB 154/6, Craycroft 54, Jansen 36
HC 157/2 Thompson 55, Gaboreu 59*
Wb lost by 8 wickets
WBHS U16A vs Hilton U16A
Hilton 245/6, Pitman 48, Hockly 64, Falconer 39, Erasmus 45*, Valentine 3/47 WBHS 175/10, Holman 35, Campbell 4/27 WBHS lost by 70 runs
WBHS 16B vs HC 16B
WB 171/9, Sutcleffe 42
HC 163/10, Burman 39, Grant 34, Clarke 4/25, Naidoo 4/28 WB won by 8 runs
WB 15A vs HC 15A
HC 135/10. Delvin 2/10, Kidgell 2/9, Naicker 2/8 WB 140/2. Kidgell 38*, McGough 74* WB won by 8 wickets
WBHS 15B vs HC 15B
WB 133/5, Muzzel 31, Voller 3/27
HC 134/3, Maltby 64*, Franco 44
WB lost by 7 wickets
WB 15C vs HC 15C
WB 133/3 (Hindley 50, Fewster 30)
HC 82/10 (Peer 4/3)
WB won by 48 runs.
WB 14A vs HC 14A
WB 337/9. De Beer 133, Rodden 109*, Doig 38.
HC 192/10. Motsepa 34.
WB won by 145 runs
WB 14B vs HC 14B
WBHS 213/4. Hosen 59, Faure-field 37, Lilford 42 HC 128/3. Bastard 60* Match abandoned
WBHS U14D vs HC U14C
HC 91/10, Sijadu 4/14, Faulds 3/16
WBHS 91/1, Naidoo 62*
WBHS won by 9 wickets
P12 W5 L6 N/R 1
Cricket vs College
WBHS U14E VS MC U14E
WBHS 156/4, Fourie 50*
MC 142/4, Balkisson 51*
WBHS won by 14 runs
WBHS U14F vs MC U14F
WBHS 141/7 Singh  59*
MC  133/9
WBHS won by 8 runs
WBHS U14G vs MC U14G
MC 77/10, moola 3/14
WBHS 78/4
Westville won by 6 wickets
P 3 W 3
W100 ball Competition
WBHS 1st vs Clifton 1st
WB 95/8, McAllister 20, Kistna 33, Perumal 2/10, Northend 2/4 CC 57/10, Beck 2/7, Gopalan 2/15, Khan 2/6, Kistna 2/9 WB won by 38 runs
WBHS U16A vs Clifton U16A
Clifton 102/6, Naidoo 50*
WBHS 88/5, Williamson 3/11
WBHS lost by 14 runs
WB 15A vs Clifton 15A
WB 179/2. McGough 62, Rasmussen 54*, Nair 38* CC 94/7. Sheik 31.
WB won by 85 runs
WB 14A vs Clifton 14A
WB 118/6 Doig 40
CC 120/3 off 88 balls
CC won by 7 wickets
P 4 W 2 L2
Cricket Report
Westville Boys High hosted Hilton College this weekend and had a mixed set of results, playing 12 fixtures – losing 6, winning 5 with 1 match being abandoned. In addition our U14 E, F & G teams all recorded wins over Maritzburg College. Convincing wins over Hilton in the U14A and U15A teams were offset by losses by the U16A (by 70 runs) and after a closely fought battle on Bowdens, the First XI went down by 40 runs chasing Hilton's 263.
On Bowdens, Hilton won the toss, chose to bat first, and accumulated 263 runs which was an above par score. Fielding first, the boys unfortunately had to toil in the hot sun for 50 overs and it took its toll as our fielding let us down, dropping 6 crucial catches in the process. After a reasonable start, the consistent loss of wickets (Aryan Gopalan 37, Romashan Pillay 41 and Blake Simpson at the death for a gallant 66), never allowed the Westville innings to gain any momentum and the chase capitulated at 223 all out thus losing by 40 runs.
Highlights of the weekend were certainly the 100's scored by Sam de Beer 133 (112) and Luca Roddan 109* (110) for the U14A which enabled their partnership to reach 212 and their team total to 336/7 in 50 overs which was too many for Hilton to chase. In addition the U15A boys continued where they left off last year with a dominant 8 wicket win over Hilton with Kyle Mcgough taking the team home with a positive 76 not out.
Other notable achievements with the bat were Chad van Breda 63*(2nd XI), Matthew Craycroft 54 (4th XI), Kai Hindley 50 (U15C), Mohamed Hoosen 59 (U14B), Daniel Naidoo 62*(U14D), Michael Fourie 50*(U14E), Kieraav Singh 59* (U14F). With the ball Damon Faulds (U14D) achieved the first hattrick of the season with figures of 3/16, closely followed by Lisakhanja Sijadu 4/14 (U14D), Gareth Clark 4/25 (U16B), Adil Naidoo 4/28(U16B).
This week the #Griffins are at the crease again, midweek W100 ball fixtures for 1st XI/ 2nd XI/ U15A & U14A versus Kearsney College away, with our next #SummerSeason fixtures versus Northwood this coming weekend.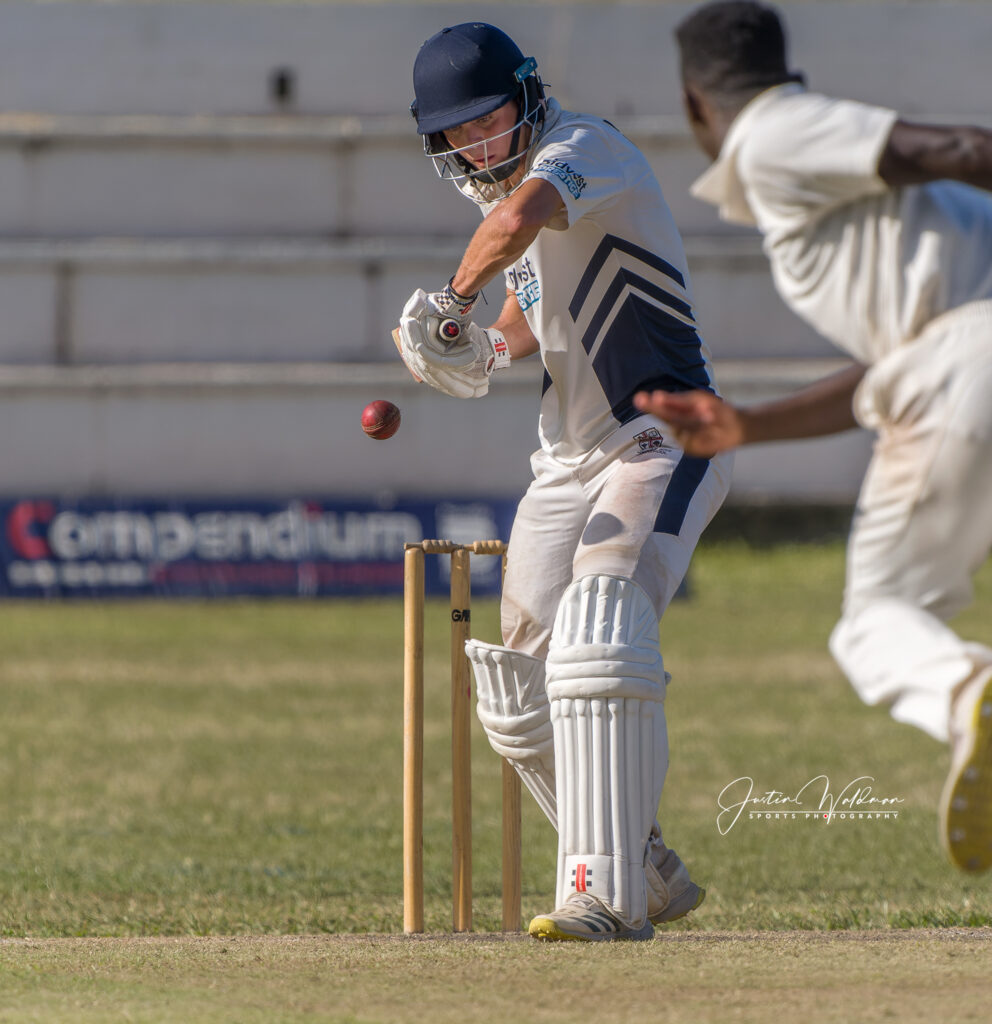 Waterpolo Vs Hilton
1st: Bye
2nd 6-10 L
3rd 6-8 L
4th 10-6 L
5th 6-16 L
15A 2-10 L
15B 4-8 L
14A 7-12 L
14B 4-10 L
Played: 8
Won: 0
Lost: 8