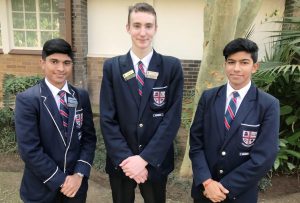 Three Westville Boys' High School boys have been invited to the Finance Indaba at the Johannesburg Stock Exchange in October following their selection out of 500 teams and 130 schools in the CFO Case Study Competition.
The CFO (Chief Financial Officer) is an annual, open-entry, and global multi-stage business strategy and leadership-focused case study competition, organised by The Charter Quest Institute South Africa. It challenges students around the world to prove they can compete at the highest level, by solving a set of complex and integrated finance, operational, strategic and ethical problems that beset a real-world global business in the emerging markets.
Team Griffins, Vaishanth Chami, Cameron Staples and Keshav Maharaj will attend the 2019 finals which will be held at the Johannesburg Stock Exchange (JSE) from October 15th – 16th 2019 and we wish them every success!