The 232 candidates in the Class of 2019 generally achieved a remarkable set of results, with 477 subject distinctions, a 97 % pass rate and 93 % obtaining Bachelor and Diploma passes. Other outstanding statistics were that 22 boys achieved 7 distinctions or more, while 28 boys achieved 6 distinctions or more.
Congratulations go to those boys who extended themselves in achieving their full potential, and our teachers across all grades for their persistence in motivating the students in their classes. The positive and vital pressure that parents apply at home in supporting their sons is also much appreciated.
Our 28 top-performing students were:
Those students who achieved 8 distinctions: Paulo da Costa, Shaahid Ghoor, Khaélin Rajkumar & Aidan van Rooyen.
Those who achieved 7 distinctions: Robert Archibald, Gareth Beavan, Adam Blewett, Jordan Blom, James Butler, Gideon Chetty, Harry Davidson, Kenwyn Govender, Trent Lilford, Rory McGee, Robert Moody, Sachen Naidu, Cameron Parle, Zaid Patel, Nivan Poken, Saurav Ramcharan, Rahil Rampersad & Keaton Rix.
Those who achieved 6 distinctions:  Luke Allen, Luke Gossman, Claudio Govender, James Haw, Tshepo Maise &Keane Ranganthan.
Special mention must go to Paulo Da Costa who received a special award from the KZN Department of Education for getting the top Mathematics mark in the Pinetown District.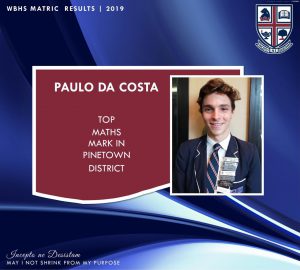 In assessing the quality of passes, a major factor to consider is that 85% of our students undertook core Mathematics, and 78% undertook Physical Science.  In addition, 33 students also wrote Advanced Programme Mathematics.
         Click below to watch our DiGi TV Broadcast on the results