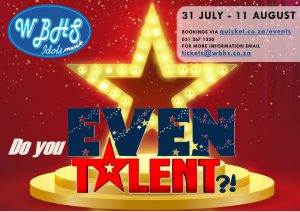 Westville Boys' High proudly presents its annual musical production DO YOU EVEN TALENT?! – an interactive show where the audience decides the performance outcome every night! Featuring live music, insane choreography and awesome variety acts, this gala revue promises to have the whole family coming back for more! Loosely based on every television talent show ever (Idols, So You Think You can Dance, Eurovision, America/Britain's Got Talent, The Voice, World of Dance and even The Oscars) the show consists of categories or styles of performance, with 3 acts in each category, all competing to be voted into the gala performances. Audiences get to pick their favourites over the 8 shows, using our custom-built voting app, until the winners in each category are announced and showcased in 4 final gala performances. The more times you come to watch, the more chances you have of seeing your favourites in the final shows!
All tickets are being sold online through quicket.co.za Follow the links below to book for the specific show you wish to see.
BOOK NOW FOR THE CATEGORY SHOWS, AND YOUR CHANCE TO VOTE YOUR FAVOURITE PERFORMANCE FORWARD!
https://www.quicket.co.za/events/69005-do-you-even-talent-category-elimination-shows/
CATEGORY A SHOW DATES: Tuesday 30 July, Thursday 1 August, Saturday 3 August, Tuesday 6 August
CATEGORY B SHOW DATES: Wednesday 31 July, Friday 2 August, Sunday 4 August, Wednesday 7 August 
Ticket prices for the Category Shows are as follows:
Adults R60
Scholars R30
Top Corner Seating R30 (everyone)
Floor Seating R20 (everyone)
BOOK NOW for the GALA PERFORMANCES, chosen by audience members over the past 8 shows!
https://www.quicket.co.za/events/76914-do-you-even-talent-final-gala-performance/
GALA PERFORMANCE DATES – Thursday 8 August – Sunday 11 August
Ticket prices are as follows:
Floor Seating (no tables) R60
Floor and Top Corner Tables R100
Tiered Table Seating R120
ALL GALA SHOWS ARE BARNYARD-STYLE SUPPER THEATRE, STRICTLY BYO – TEA, COFFEE AND LIGHT REFRESHMENTS ON SALE.
For more information, or a guide on how to use the online booking system, contact the school on 031 267 1330, or email [email protected] for assistance. Follow our facebook page https://www.facebook.com/wbhsperformingarts for regular updates, and promotional giveaways!