Tuesday, 6 August, saw saw the Finals of the DCDL (Durban Coastal Debating League) debates and the end to its 2019 season overall.
The Senior Finals had Thomas More College in proposition square off against Clifton in opposition on the motion "Assuming the technology existed, this house would radically redistribute intelligence among the population. The result from the 5 man panel was unanimous in awarding the debate to Clifton.
The debate was followed by an awards ceremony in which two of our Junior debaters (Brayden Rutherford and Muhammad Jhaveri) and one of our Senior debaters ( Harry Reginald Davidson III) were placed in the top 10 in their respective divisions.
A new award was also introduced this year, one that took into account the overall scores of the Senior and Junior debating teams from each of the 22 schools in the league. I am proud to announce that Westville Boys' High School was ranked 1st in the league.
Thank you to all of you that have been supporting the students and debating in general.
SHAUN PADOA: Master in Charge of Debating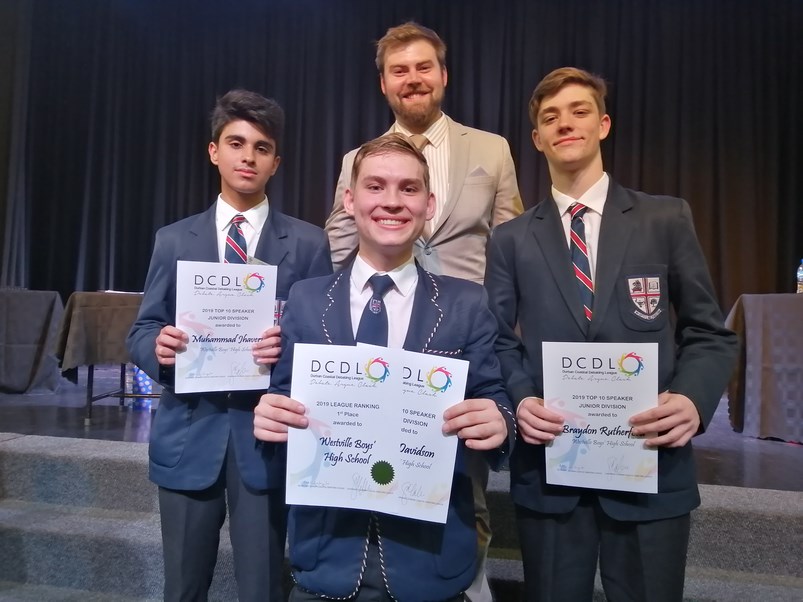 Junior debaters (Brayden Rutherford and Muhammad Jhaveri) and one of our Senior debaters ( Harry Reginald Davidson III) together with Mr Padoa